YAMAHA YSS-475
Yamaha
Regular price 92,000.00 ฿ Sale
YAMAHA YSS-475
The YSS-475II delivers professional qualities at an intermediate price. Much of its design is based upon the Custom EX saxes, and it shares many of the same features. The 475II offers outstanding response, tone, and intonation, as well as comfortable playability.
Custom style Bb spatula

The custom spatula facilitates correct technique and increases player comfort

Adjustable thumb rest

Thumb rest allows for a comfortable hand and fingering position

High F# key

The added key allows for more alternate fingerings and a true high F#

New Body Taper

The new body shape provides improved intonation and optimal air-flow

Lower vent tube

The lower vent tubing design reduces noise on lower vent key action

New key post rib plate

Improved protection with the key post rib plate increases durability and strength

New keys

The new keys are lighter, with more comfortable positioning

New Pivot Screws

New bullet point headless pivot screws make for easy adjustment

Laser Engraving

Laser engraving adds precision styling and an improved look
Specifications
Key                                        Bb
Bell
                Type                      Two-piece
                Decoration            Laser engraved
Keys
                Key Buttons         Polyester
                Auxiliary Keys      High F#, Front F
Thumb Hook                        Adjustable
Finish                                  Gold lacquer
Neck                                    Straight
Mouthpiece                          SS4C
Case                                    Included
เคส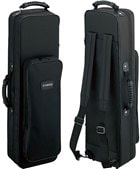 The 475II saxes come in deluxe ultra-lightweight cases which provide excellnt protection. It includes shoulder straps for easy transport.