YAMAHA YOB-241
Yamaha
Regular price 95,000.00 ฿ Sale
YAMAHA YOB-241
Inheriting the many of the hallmarks which make Yamaha Custom Oboes so highly revered on the world stage, the YOB-241 Student model is the perfect instrument for a beginner. Its tone is immediately rich and warm, whilst the setup is reponsive and forgiving, allowing new oboists to concentrate on progressing.
Level

Standard
Key of

C
Key System

Simplified Conservatoire
Bore Style

American
Octave Keys

Semiautomatic
Mechanical Features

Covered keys
Upper joint material

ABS Resin
Lower joint material

ABS Resin
Bell Material

ABS Resin
Key Material

Nickel Silver
Plating

Silver
Tone Holes

Undercut
Thumb Rest

Fixed
Trill Keys

C#-D#; F#-G#; A#-B; B-C#; C-D
Spring Type

Stainless Steel
1

A fingerplate for the right index finger provides better reach and comfort for smaller hands.
2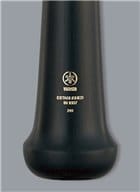 The 241 feature a special wood-like matte finish on their ABS resin bodies.